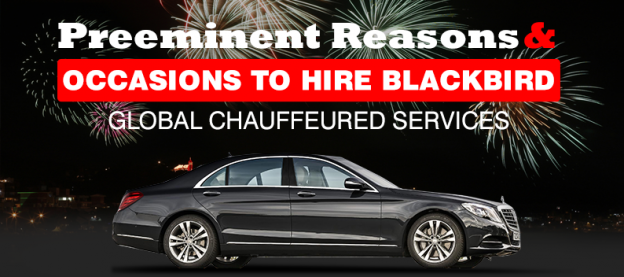 Preeminent Reasons & Occasions to Hire Blackbird Global Chauffeured Services?
Regardless of the occasion or time, people got numerous reasons to travel throughout the world. Blackbird Global Chauffeur Services hand out clients with the best limousine services New York & worldwide. Whether it`s business meeting, family gathering or a comforting vacation, hiring limo services for transportation will benefit the traveler financially, vividly and lavishly.
Professional chauffeurs of Blackbird are skilled in delivering 24/7 supreme services promptly and expediently. Our chauffeurs are security cleared and vehicles are highly maintained, which brings you the ultimate chauffeur driven experience. Here are few fine reasons to hire Blackbird chauffeured services for different occasion's professional/personal:
Our services are easy on the pocket:-
Being an experienced chauffeured service provider, we value your time, money & occasion. Our chauffeurs are determined to drop you off exactly outside the destination in time. Cut down the cost of long-term parking plus rental fee by hiring the limousine services. Eradicate the anxiety associated with air travel and rejuvenate yourself in the comfort of a generous vehicle in competitive price.
Blackbird is most reliable:-
Arriving late or missing a scheduled flight is a nightmare for every traveler. Using professional Airport Transport Services New York makes your arrival/ departure prompt and stress free. Whether our client is a business or leisure traveler Blackbird vehicle will arrive at the pick-up point earlier to the arranged time. We track your flights to cover any amendment in pick-up and drop-off schedules. You can leave all the travel worries behind because Blackbird knows the art of taking all the stress out.
Competent chauffeured services:-
By hiring professional chauffeured services, Blackbird endows clients a devoted staff that tracks and monitor traffic patterns to ensure the best route is opted for transfer. We proactively prepared to deal big time transportation hurdles like road construction, traffic delays, we are always ready with a timely detour to transport you in time contentedly. The client just needs to worry about his/her luggage packing, leave the rest travelling concern to us.
We serve the finest Airport Transport Services, Our clients' gets added time & privacy to talk on the phone, accomplish significant proposals. Most of the executives are short on time, so Blackbird Global Chauffeured Services try utmost to make it more productive. Luxury sedan, SUV or prolific limousines are ready with bottled water, tablets charging station, wall street journal and hand sanitizer.
Clients could cut down the stress & rejuvenate themselves for the commerce gathering by travelling to and from in luxurious vehicle. Travelling to / from executive meetings, prom nights, Road shows or any other place professional chauffeured services from Blackbird worldwide can make all the difference. In today`s fast-paced world business opportunities are spread all over the globe and it is our job to transport clients whenever & wherever they need to go.
Blackbird's mission is to exceed your expectations each time we serve you limousine services.